K9guru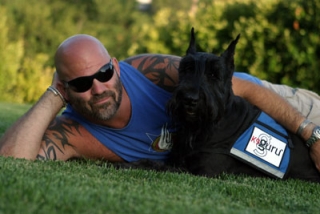 Dogs recognize John Flanagan as the gentle giant who they want to serve. You may recognize John from some of the many national TV commercials he has done over the years. Others will know John as a freelance union animal trainer to the entertainment industry.
John began his home training practice in 1998 after experiencing success and discovery from his work with his standard and giant Schnauzers, Garbo & Franklin. John uses a technique to teach dogs commands using rewards and hand signals. A strong believer in training using positive reinforcement, John likes to say, "I vibe the dog".
John is respected and accredited by some of the most prominent organizations in the animal training community including:
- SFSPCA Academy for Dog Trainers – COC Program with Jean Donaldson
- L.A. City Animals – Volunteer
- Delta Society – Evaluator
- FEMA-OES – Trained with Search & Rescue Dog Task Force
He has trained animals for clients such as:
- "Providence"
- Kodak
- Purina
- AT & T
- Dodge Neon
- "Animal Planet"
- E-Trade
- CBS- "Dog Days"
- Chrysler
- Petopia
- Fox Family
Mostly if you want to see why so may people train with John, simply look at the reaction your dog has when he meets him, and feel the comfort and ease that it gives you.
John's website is www.K9guru.com