Puppy's First Month at Home (8-12 weeks)
Dr. Ian Dunbar
| Wed, 11/21/2007 - 10:59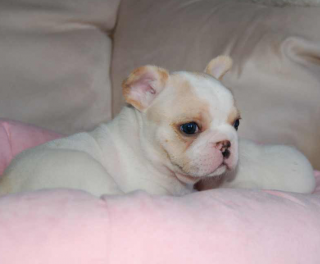 Puppies are simply custom-designed for easy socialization. Young puppies eagerly approach everyone, and everyone who sees them instinctively wants to pick them up and cuddle.

The more people your pup meets and enjoys, the more your pup will like people as an adult. Additionally, the more your pup is handled and rewarded by people, the more your future adult dog will enjoy being hugged by children and examined by veterinarians.

The Critical Period of Socialization ends by three months of age! This is the crucial developmental stage during which puppies learn to accept and enjoy the company of other dogs and people. Thus your puppy needs to be socialized to people by the time he is twelve weeks old. However, since his series of puppy immunization injections is incomplete at this point, a young pup needs to meet people in the safety of his own home. As a rule of thumb, your puppy needs to meet and party with at least a hundred people during his first month at home.

Puppies have very sharp teeth and even fairly gentle bites can hurt. However, puppy biting behavior and periodic painful (yet non-harmful) bites are essential for a puppy to ultimately develop a soft mouth as an adult dog. Puppies learn that play-fighting and play-biting are fun, but that painful bites bring an abrupt end to the play session. Thus, the more that puppies are allowed to play and bite, the quicker the painful bites decrease in frequency. Puppies must learn to control the pressure of their biting and mouthing before they develop the strength to cause serious harm and so, you must teach your puppy proper bite inhibition before he gets too old. Bite inhibition must be taught during puppyhood.

Additionally, you must teach your puppy to be confident and happy regarding human presence around their food bowl and valued objects, otherwise your puppy may become overly possessive and begin to guard objects.

Unfortunately, far too many owners underestimate the crucial importance of teaching bite inhibition and socializing their young puppy and so, I have included a list of common excuses. Not teaching bite inhibition is both asinine and potentially dangerous. Not sufficiently socializing a puppy is inhumane; as an adult, the poor dog will forever feel stressed, anxious and edgy around people. Not fair. Please socialize your puppy. In fact, please enjoy socializing yourself and your puppy with many puppy parties during your puppy's first month at home.
Want to raise the perfect puppy?
Learn more about puppy training with The Best Online Puppy Training Programs:
The Top Dog Academy. Learn how to deal with puppy biting, crate training, toilet training, socialization and more with videos, worksheets and podcasts about puppy training. When you join the Top Dog Academy you also get access to personalized email support so you can train your puppy yourself. Use this link to get your first month for free.
SIRIUS Puppy Training. Looking for more support? Get personalized, real-time, video dog training guidance from an expert SIRIUS Puppy Training instructor. Dr. Dunbar's SIRIUS Puppy & Dog Training classes revolutionized the world of pet dogs when they were first created. Now, our online small-group classes allow you to get the expert assistance you need from the comfort of your home.