Home Alone
Dr. Ian Dunbar
| Wed, 11/21/2007 - 11:07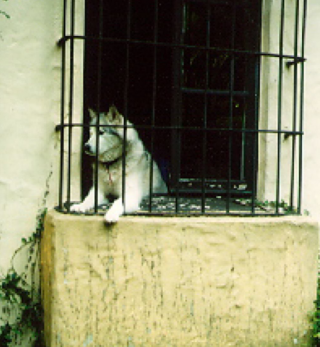 All owners find it occasionally necessary to leave their puppydog at home alone. So before leaving your puppy for long periods, you should teach him how to amuse himself appropriately when left alone, such as by chewing stuffed chewtoys, and learning how to enjoy his own company without becoming anxious or stressed. A dog is a highly social animal and therefore requires adequate preparation for spending some of his time in social isolation and solitary confinement.
To teach your puppy how to settle down calmly and quietly when you are absent, start by teaching him to settle down with a chewtoy at times when you are present.
A dog is not like a television or a video game. You can't just pull the plug or temporarily remove the batteries from a rambunctious puppy. Instead, you must teach him to settle down and shush. Right from the outset, make frequent quiet moments part of the puppy's daily routine. Following the confinement schedule (described in Puppy's First Week at Home) will help your puppy train himself to settle down. Additionally, encourage your puppy to settle down beside you for longer and longer periods. For example, when you're watching television have your pup lie down on leash or in his crate, but release him for short play-training breaks during the commercials. For a young puppy, you can't have too many rules.
When playing with your pup, have him settle down for frequent short interludes every one or two minutes. Initially have the pup lie still for a few seconds before letting him play again. After a minute, interrupt the play session once more with a three-second settle-down. Then try for four seconds, then five, eight, ten, and so on. Although being yo-yoed between the commands "Settle down" and "Let's play" is difficult at first, the puppy soon learns to settle down quickly and happily. Your puppy will learn that being asked to settle down is not the end of the world, nor is it necessarily the end of the play session, but instead that "Settle down" signals a short timeout and reward-break before he is allowed to resume playing.
If you teach your puppy to be calm and controlled when told, you will have years of fun and excitement ahead. Once your puppy has learned to settle down and shush on cue, there is so much more your dog can enjoy with you. Your well-trained dog is likely to be invited for many walks, trips in the car, picnics, visits to the pub, or to Grandma's, and even on incredible journeys to stay in ritzy dog-friendly hotels. On the other hand, if you let your dog play indiscriminately as a puppy, he will no doubt want to play indiscriminately as an adult. Your dog will be hyperactive and uncontrollable because you have taught him to act that way. If your pup has not been taught to settle down by the time he reaches adolescence, he will be unfit to be taken places. Your pup will begin a lifetime of confinement and isolation at home while the rest of the family go out to have a good time. Not fair!
Until you have trained your puppy to enjoy spending much of his day at home alone, you might recruit a puppy sitter who has time to spend with him. Just a few houses down the street, there may live an elderly gentleman, for example, who would just love to live with a dog (but who doesn't for some reason) and therefore would be willing to come over during the daytime and sit and enjoy your TV or the contents of your fridge; maintain your puppy's confinement schedule and regularly reward him for using his doggy toilet; and periodically play with the pup and teach him household rules.
Separation Anxiety
Maintaining your puppy's confinement schedule when you are at home prepares your puppy to be calm when you are gone. Allowing a young puppy unrestricted access to you when you are at home quickly encourages him to become overly dependent, and overdependence is the most common reason why dogs become anxious when left at home alone.
Try your best to teach your puppy to enjoy his own company, to develop self-confidence, and to stand on his own four paws. Once your puppy is confident and relaxed on his own, he may enjoy all of his time with you when you are at home.
When leaving your puppy for hourly sessions in his short-term confinement area (dog crate), make a point to check how he fares when left in another room. For example, periodically confine your puppy to his crate in the dining room while you prepare food in the kitchen, then keep the pup in his crate in the kitchen while the family eats dinner in the dining room.
Most importantly, when you are at home, make certain to familiarize your puppy with his long-term confinement area (puppy playroom). Confining your pup when you're home enables you to monitor his behavior during confinement and check in on him at irregular intervals, quietly rewarding him for being quiet. Thus your pup will not necessarily associate his confinement area with your absence, but rather he will learn to look forward to time spent in his playroom with his special toys.
Give your puppy plenty of toys whenever leaving him on his own. Ideal chewtoys are indestructible and hollow (such as Kong and Premier products and sterilized longbones), as they may be conveniently stuffed with kibble and occasional treats which periodically fall out and reward the pup for chewing his toy. If your puppy is gainfully occupied with his chewtoy, he will fret less over your absence.
Additionally, leave a radio playing. The sound will provide white noise to mask outside disturbances. The sound of a radio is also reassuring, since it is normally associated with your presence. My Malamute Phoenix was quite partial to Classical music, Country, and Calypso. Oso prefers television, especially ESPN or CNN — the sound of reassuring male voices, perhaps?
When Leaving Home
Make sure to stuff a number of chewtoys with kibble and treats. Make sure to stuff a piece of freeze-dried liver into the tiny hole of each Kong, or deep into the marrow cavity of each bone. Place the tastily stuffed chewtoys in your puppy's long-term confinement area and shut the door… with your puppy on the outside! When your puppy begs you to open the door, let him in and shut the door, turn on the radio or television, and leave quietly. Your puppy's chewing will be regularly reinforced by each piece of kibble that falls out of the chewtoy. Your puppy will continue to chew in an attempt to extract the freeze-dried liver. Eventually your puppy will fall asleep.
When Returning Home
Do not acknowledge your puppy's presence with praise or petting until he retrieves a chewtoy. Once he brings you a chewtoy, use a pen or pencil to push out the piece of freeze-dried liver that your puppy has been unable to extract. This will impress your puppy to no end.
Dogs are crepuscular and quite happy to sleep all day and all night. They have two activity peaks, at dawn and dusk. Thus, most chewing and barking activity is likely to occur right after you leave your pup in the morning and just before you return in the evening. Leaving your puppy with freshly stuffed chewtoys and offering the unextracted treats when you return prompts your puppy to seek out his chewtoys at times of peak activity.
Jekyll-and-Hyde Behavior
Smothering your pup with attention and affection when you are home primes your puppy to really miss you when you are gone. A Jekyll-and-Hyde environment (lots of attention when you are there, and none when you are gone) quickly creates a Jeckyll-and-Hyde puppy that is completely confident when you are there, but falls apart and panics when you are gone.
If you allow your puppy to become overdependent upon your presence, he will be anxious in your absence. Canine anxiety is bad news for you and bad news for your pup. When stressed, dogs are more likely to indulge in bad habits, such as housesoiling, chewing, digging, and barking. Being anxious is also decidedly unpleasant for your dog.
During your puppy's first few weeks at home, frequent confinement with stuffed chewtoys is essential for your pup to develop confidence and independence. Once your puppy is quite happy busying himself with his chewtoys whenever left alone, you may safely allow your now well-behaved and confident pup to enjoy as much time with you as he likes, without the fear that he will become anxious in your absence.
Is It Really Separation Anxiety?
Most doggy "disobedience" and wanton house destruction occurring in the owner's absence has nothing to do with separation anxiety. In fact, separation relief might be a more precise and descriptive term. The dog chews, digs, barks, and soils the house only when the owner is absent because he has learned it would be foolhardy to indulge in these pastimes when the owner is present. Owner-absent misbehavior is an indication that the owner has tried to suppress normal and natural dog behaviors with punishment, rather than teaching the dog how to behave — namely, how to express his basic doggy desires in an acceptable fashion. Often the term "separation anxiety" is an excuse for a dog who is simply not yet housetrained or chewtoy-trained.
Adapted from AFTER You Get Your Puppy by Dr. Ian Dunbar