Socialization With People
Dr. Ian Dunbar
| Wed, 11/21/2007 - 11:08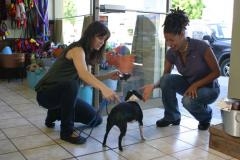 Raising and training a pup to be people-friendly is the second most important goal of pet-dog husbandry. Of course, teaching bite inhibition is always the most important goal. But during your pup's first month at home, urgency dictates that socialization with people is the prime puppy directive.
As a rule of thumb, your puppy needs to meet at least a hundred people before he is three months old. Since your puppy is still too young to venture out on the streets, you'll need to start inviting people to your home right away. Basically, you'll need to have lots of puppy parties and invite friends over to handfeed your pup and train him for you.
Doggy Dream or Nasty Nightmare?
A most important quality in a pet dog is his temperament. A dog with a good temperament can be a dream to live with, but a dog with a tricky temperament is a perpetual nightmare. Moreover, regardless of breed or breeding, a dog's temperament, especially his feelings toward people and other dogs, is primarily the result of his level of socialization during puppyhood — the most important time in a dog's life. Do not waste this golden opportunity. Solid gold temperaments are forged during this period.
Your puppy must be fully socialized to people before he is three months old. Many people think puppy classes are the time to socialize puppies to people. Not so — too little, too late. Puppy classes are a fun night out to continue socializing socialized puppies with people, for therapeutic socialization of puppies with other puppies, and most important, for puppies to learn bite inhibition.
You now have just a few weeks left to socialize your puppy. Unfortunately, your pup needs to be confined indoors until he is at least three months old, when he has acquired sufficient immunity through his puppy shots against the more serious dog diseases. However, even a relatively short period of social isolation at such a crucial developmental stage could all but ruin your puppy's temperament. Whereas dog-dog socialization may be put on temporary hold until your pup is old enough to go to puppy school and the dog park, you simply cannot delay socialization with people. It may be possible to live with a dog that does not like other dogs, but it is difficult and potentially dangerous to live with a dog that does not like people, especially if the dog doesn't like your friends and family.
Consequently, there is considerable urgency to introduce your puppy to a wide variety of people — to family, friends and strangers, and especially to men and children. As a rule of thumb, your pup needs to meet at least a hundred different people before he is three months old — an average of three unfamiliar people a day.
A Hundred People
Capitalize on the time your pup needs to be confined indoors by inviting people to your home. Your pup needs to socialize with at least a hundred different people before he is three months old. I know this may sound like a bit of an ordeal, but it is actually quite easy to accomplish. Twice a week, invite different groups of six men to watch sports on TV. Generally, men are pretty easy to attract if you offer television sports programs, pizza, and beer. On several other nights a week, invite different groups of six women for ice cream, chocolate, and good conversation. (Or the other way round—you know your friends better than I do.) On another night of the week, catch up on all of your outstanding social obligations by inviting family, friends, and neighbors for meet-the-puppy dinners. Another tactic is to bring your puppy to visit your office for the day. Or, have a puppy party once a week. Above all, don't keep your puppy a secret. One of the great things about puppy socialization is that it also does wonders for your social life!
Urgency
From the very first day you get your puppy, the clock is ticking. And time flies! By eight weeks of age, your puppy's Critical Period of Socialization is already waning and within a month, his most impressionable learning period will start to close. There is so much to teach, and nearly everything needs to be taught right away.
Be Safe
Puppies may become infected with serious dog diseases by sniffing the urine or feces of infected dogs. Never let your puppy on the ground where other dogs may have eliminated. You may take your puppy for car rides and to visit friends, but always carry your puppy from house to car, and vice versa. Of course, these precautions also apply to visits to the veterinary clinic. The ground immediately outside the door of the clinic and the floor of the waiting room are two of the most likely contaminated areas. Carry your puppy from the car to the clinic and keep him on your lap in the waiting room. Better yet, keep your puppy crated in your car until it is time for his examination.
Three Goals Of Socialization
1. Teach your puppy to enjoy the presence, actions, and antics of all people — first the family, and then friends and strangers, especially children and men. Adult dogs tend to feel most uneasy around children and men, especially little boys. A dog's antipathy toward children and men is more likely to develop if the puppy grows up with few or none around, and if the puppy's social contacts with children and men have been unpleasant or scary. 2. Teach your puppy to enjoy being hugged and handled (restrained and examined) by people, especially by children, veterinarians, and groomers. Specifically, teach your puppy to enjoy being touched and handled in a variety of "hot spots," namely, around his collar, muzzle, ears, paws, tail, and rear end. 3. Teach your puppy to enjoy giving up valued objects when requested, especially her food bowl, bones, balls, chewtoys, garbage, and paper tissues.
Adapted from AFTER You Get Your Puppy by Dr. Ian Dunbar