Laurie C Williams CPDT-KA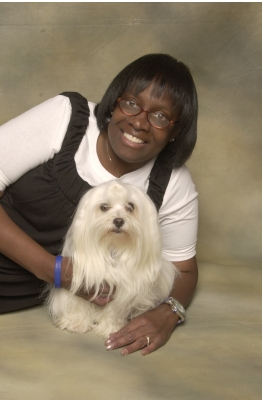 Laurie C. Williams CPDT and her 6 year old Maltese dog Andrew may have been runners-up on the CBS summer reality show Greatest American Dog, but they are America's designated champions in demonstrating the beautiful, mutually respectful relationship that can result from positive, dog-friendly training.
 
A canine education specialist, dog behavior counselor and trainer for over 25 years, Laurie is the owner and Director of Training and Behavior Counseling at Pup 'N Iron Canine Fitness & Learning Center in Fredericksburg, VA, 45 minutes south of Washington, DC.  The 11,000 square foot, state of the art dog training, daycare and fitness and rehabilitation facility is the only one of its kind in the country. 
Laurie is the host of the radio podcast show DSPN – Dog Sports and Performance Network on Pet Life Radio and a professional member of the Association of Pet Dog Trainers (APDT).  Laurie was one of the first dog trainers in Virginia to receive the CPDT (Certified Pet Dog Trainer) credential issued by the Certification Council for Professional Dog Trainers and is an A.K.C., U.K.C. and APDT Rally Obedience judge.  A nationally published writer, Laurie's work has been featured in Fitness, Good Housekeeping, Shape, and 9-1-1 magazines.  She is a Contributing Editor for the APDT Chronicle of the Dog, is a weekly columnist for the Stafford County Sun newspaper and is a featured author in the newly released book Dog Trainer's Resource 2.  Laurie is an AKC Canine Good Citizen evaluator and a Delta Society Pet Partner therapy dog evaluator.  She has participated in both Animal Assisted Therapy and Animal Assisted Crisis Response with her dogs since 2003.