Uncle Sam says Pits and Rotties we DON'T want you
Laurie C Willia...
| Sat, 08/29/2009 - 14:39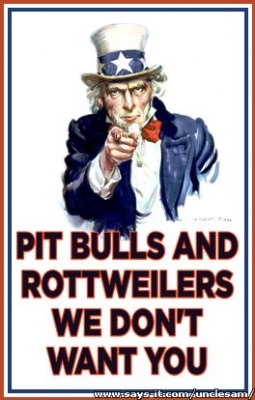 On Friday I received a frantic call from the director of Family Housing at Marine Corps Base Quantico asking if I was certified to administer the AKC Canine Good Citizen test. I answered yes, but asked him to explain the urgency. Apparently, the U.S.M.C. recently (August 11) issued a corpswide ban on Pit Bulls, Rottweilers, wolf hybrids, and any mixes of those breeds from all Marine Corps bases, to include base housing. I guess this shouldn't really come as a surprise. The Army issued the same ban earlier in the year, and separate military bases have been implementing their own bans here and there as a result. So now, even though they carry the nickname Devil Dogs, the U.S.M.C. is not extending their Semper Fi motto to the family pet .... if it's of a certain breed, that is.
I'd been hearing about the proposal for the past month or so, but was expecting to hear more, particularly some organized opposition. But that never happened. Instead, the proposal not only passed, but was put into the housing codes, effective immediately, and buried under the usual rules and regulations without incident. I guess like the saying goes, you can't fight the government. I went to the Quantico Marine Base housing website to read the actual wording of the directive myself. There it was, plain as day.
"Pet ownership for those service members' and their families residing in government owned or PPV family housing provides a real and tangible benefit and contributes to the quality of life for resident families. However the rise in ownership of large dog breeds with a predisposition toward aggressive or dangerous behavior, coupled with the increased risk of tragic incidents involving these dogs, necessitates a uniform policy for the health safety and tranquility of all residents of family housing areas."
It's not bad enough that the powers that be have singled out these two specific breeds, but since the ban also includes mixes of these breeds, a veterinarian may be called in to make the determination on your dog! The only consolation is the directive does provide a grandfather clause allowing residents to apply for an exemption of their existing pets provided the dog(s) passes and is certified by a nationally recognized temperament test. Just like many insurance companies, they are including passing the AKC Canine Good Citizen as an exemption. But, it only gives the family 60 days to do so. For Quantico dogs specifically, mid to late October will be their D-day, which is not an awful long time for a completely untrained dog.
Sorry Johnny, mommy or daddy is in Iraq or Afghanistan serving his/her country and putting his/her life on the line? So sad, too bad, time to say goodbye to Rover! Talk about pouring salt in open wounds.
Get ready for military base area rescues and shelters to be inundated with a random influx of displaced Pit Bulls and Rotties. I've put a few CGC Fast Track classes on our schedule. Hopefully it will help some of the families with dogs in jeopardy here in my area. I encourage other trainers near military bases to do so as well.