Laurel Scarioni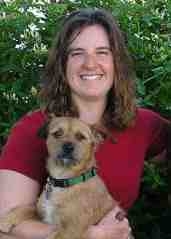 Laurel Scarioni is the founder of Pawsitive Results Critter Academy, LLC, which offers training and behavior modification for dogs, cats, and parrots. A significant portion of Laurel's business involves working with people to resolve behavior problems such as fear and aggression. However, her ultimate goal is to prevent such problems, so she also conducts puppy socialization and training classes to help families start off on the right paw. Fun is an important part of any good relationship, so Laurel also offers classes to introduce people to sports such as agility and canine freestyle.
Laurel is a regular contributor to Sonoma Pets, a quarterly insert in Sonoma County's Press Democrat newspaper, and has also contributed to Fetch, a Bay Area newspaper dedicated to all things dog.
She is a Certified Pet Dog Trainer (CPDT) and has earned a certificate in dog behavior counseling (with honors) from the San Francisco SPCA Academy for Dog Trainers.
Laurel and her husband Athen share their Northern California home with a menagerie of pets that they have adopted from shelters and rescue groups. They are currently owned by Tina the pitbull mix, Butch the Shih Tzu, Edgar the Border Terrier; cats Cassidy and Calvin; and parakeets Magnolia and Lily. You can learn more about Laurel's business on the web at www.pawsitiveresults.net.
Blog posts by Laurel Scarioni