Very silly, very useful
Shannon McKay
| Mon, 12/15/2008 - 13:48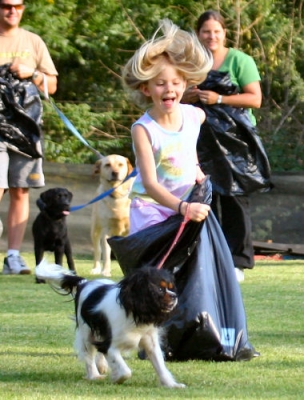 This past weekend was our school's annual fun day and prize giving. The highlight of the event is no doubt the fun events, which included a number of very silly games like sack races, wheelbarrow races, egg & spoon races etc.
Year after year it astounds me how much the handlers enjoy these games, even though their dignity takes a mammoth nosedive! I suppose for the handlers it's really nice to forget about job stress, traffic, people issues and budgets and concentrate all their efforts on keeping an egg on a spoon while they dash toward a finish line.
While the silly fun races really epitomise this, I think that dog training as such can bring a really valuable knock-on benefit to a lot of people. As an instructor it's very heart-warming to know that it is within our means to give people a well-deserved chill out session. Sure, they are bound to feel a little stress from time to time in classes if their dog does not appear to co-operate, but even so I think that type of stress is a welcome relief from the daily grind!
Another perk of the fun races is that dogs get to experience people doing strange things within a really jolly context. This not only increases their tolerance for variance, but also teaches them that humans do strange things from time and time and they are not necessarily to be feared (mind you looking at these photos some of these folk are really scary!).
The photos below illustrate some people doing really strange things, while their canine companions confidently absorb human quirks at their finest.