Puppy Love For Seniors
Kelly Gorman Dunbar
| Thu, 02/25/2010 - 10:03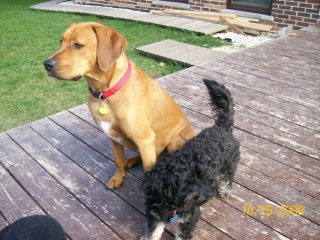 Another guest installment from my mother, Mary, who is now approximately one-year into life with a dog again. ~ Kelly
Coming home to an enthusiastic welcome, the jumping up, running in circles, and KISSES, KISSES, KISSES really beats coming home to an empty house. It is just about one year since we got our Rhodesian Ridgeback from Susan Tinch in Georgia. If you have been following the senior's corner you know Leo was a rescue. When he came to us he was a resource guarder with high value items. Also, he had a hard-ish mouth, extreme carsickness, and still needed some basic training.
I still say this is a great deal for a couple to take on when they are in their retirement years. I believe that a little older dog that has been trained and is more settled is a better match.
However, after on year he is fairly well trained, he has learned to be gentle and has developed a soft mouth. The carsickness is still a BIG problem, but we are not going to give up on it. With the help from Kelly Dunbar and Dog Star Daily info we will over come this obstacle as well.
This year has been a challenge because we also acquired a much smaller dog, a Cockapoo. His name is Shadow; his owner, an elderly woman, could not keep him due to her health problems.
Leo and Shadow got along very well from the start. The two dogs have brought a renewal of energy and laughter into our home. The unconditional love animals give truly opens one's heart. The obligation of caring for a living creature provides a reason to get up and out of bed every day. Not knowing what will happen during the day gives you something to look forward to, not every day is the same anymore. The two dogs playing together, their antics and interactions with each other are eye opening and very entertaining. Even our Grandchildren have more fun when they come over to visit.
I would still definitely recommend any senior to get a pet. Just make sure your health and finances will not be strained. There is a financial obligation to caring for an animal and you don't want financial concerns to overshadow the joy and benefits you'll experience with your new friend.
Mary Alexander