Joys of detection style training for the working companion dog....
Jill Marie O Brien
| Mon, 01/19/2009 - 14:28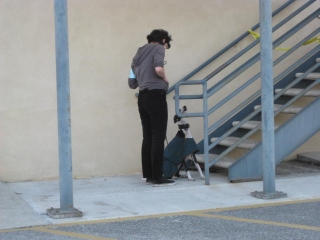 I thought as my first adventure into the world of blogs I would combine two of my favorite subjects; changing the word "pet" dog to "working companion dog" and detection dog training.
After my many years of working with clients and running a large city behavior and training department, I learned that being a "pet" dog can be the most difficult and risky job a dog is given and that many a detection dog are some of the most satisfied doggies out there. So, along with my colleagues with whom I train my own detection dogs we worked to bring the two together.
The goal was to give companion dogs a more focused task that encourages them to develop their most natural instincts; scenting and hunting. However, we wanted to go beyond nose games to actual focused nose work training based on the fundamentals of detection dog training. On January 25th we'll be holding our first sanctioned K9 Nose Work competition in Southern California.
Two and half years ago there was one class and by mid-February 2009 Nose Work classes will be held in 6 cities with 15 classes a week being taught by a variety of certified instructors. The most satisfying aspect for me and for my colleagues is seeing that all types of dogs are excelling at a job that was once considered the sole area of the German Shepherd dog, Belgian Malinois, Labrador Retriever, Beagles and many more of the working and sporting type breeds.
What has been even more amazing is that dog owners whether veteran competitors or folks just in it for fun are learning the art of reading dogs. Folks are seeing their dogs as more then just "pet" dogs, but as individuals with skills they thought were long gone. Purebred dog or shelter dog, they all have noses and without that nose would not have survived.
In some of my next blogging adventures I'll conquer doing K9 Nose Work with the shelter or rescue dog that is still waiting for that forever home, starting dogs with the game and other aspects of training for K9 Nose Work.
For more information please visit: www.funnosework.com or www.NCSWA.net.
Happy Training!