Heartsick Over Bear-Bear
Leah Roberts
| Tue, 08/10/2010 - 10:43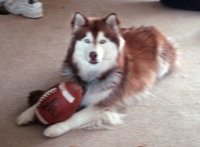 I've been trying for days to write an upbeat piece for the blog, but my heart isn't in it.
By now most people have heard about the shooting and killing of Bear-Bear, the young husky whose only crime was playing like a dog in an off-leash park in Severn, MD. In brief, last Monday night off-duty cop Keith Shepherd and his wife, Wendy, brought their German shepherd into this park on a leash, Bear-Bear approached and engaged with the GSD, and Shepherd pulled out a 9mm gun and blasted a hollow point bullet into the husky's body. He claims that he, his wife and his dog were being attacked. There were no injuries sustained to any of them. Bear-Bear died as a result of his extensive injuries after suffering for 6 hours.
Currently the case is under investigation and there is no information on what - if any - charges will be brought against Keith Shepherd.
If you're looking for details, the numerous news stories are all out there (one of them linked above). What I wanted to do in the blog today was offer ways for other people who are as heartsick as I am a way to express their outrage and offer support to the grieving family.
There are two pages on facebook dedicated to this tragedy, with similar names. (1) Justice for Bear-Bear (with a hyphen) and (2) Justice for Bear Bear (without a hyphen). All breaking news stories are being posted at these sites.
There are also two petitions which can be signed to ensure that this investigation will not be swept under the carpet: Justice for Bear-Bear is a Care2 petition and The Death of Bear-Bear which originates on change.org.
A cafe press Justice for Bear-Bear decal or bumper sticker can be purchased, with all proceeds going to the Tails of the Tundra Siberian Husky Rescue fund for Bear-Bear's owners' medical and legal costs. This rescue group is where Bear-Bear's family found and adopted him two years ago.
Donations for vet bills and legal fees can be made via PayPal using the e-mail [email protected] (the bereaved owner) or mailed to Justice for Bear, c/o TOTTSHR, P.O. Box 612, Colmar, PA 18915. Cards and letters of support can also be mailed to that address.
The Justice for Bear-Bear website is in the process of being created and will be updated with all news related to this story.