Leah Roberts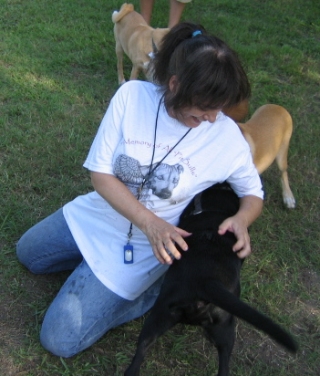 Leah Roberts has been training pet dogs in the Central Florida area since 2002, both privately and in group classes. The classes that she offers include Puppy, Adult Basic, Intermediate, Tricks, CGC, and Downtown Hounds. She specializes in early puppy socialization and development, and also offers weekly Socials in which puppies interact with and learn communication skills from well-socialized older dogs.
From infancy when her grandmother's dog was her constant companion, Leah has always loved the company of dogs. As a child the neighbors dubbed her the "Pied Piper," because wherever she would go, she would be accompanied by a pack of neighborhood dogs. If the family visited anybody with a dog, Leah could always be found on the floor. And after years of begging, her parents finally gave in and bought her a dog of her own, a chihuahua she trained to do tricks using cookies. Leah was never without a dog of her own again.
In 2001, after over 30 years in the administrative support field, Leah took her new border collie puppy to a training class at PetSmart. That first session brought a major wake-up call when she looked at the class trainer and thought, "I finally know what I want to be when I grow up!" And from that moment on, she studied dog training books, became involved in online training discussion groups, attended every seminar and workshop she could find, and within a year joined PetSmart herself as a new trainer.
Since then she has worked for both her own and other training centers, and is currently owner of Dog Willing Positive Training Solutions in Oviedo, which provides a large and comfortable air-conditioned training room that exits into a large fenced field. Here she is able to work on perfecting off-leash training techniques, which fit well with her philosophy that the way to train a dog is to create a behavior junkie who is eager and willing to work, and without the use of force, fear, intimidation or pain. Nothing upsets Leah more than to see a dog treated as an adversary that needs to be conquered. Instead, she envisions dog training as teaching both dog and owner a dance that they perform together.
More information about Leah's training can be found at http://dogwilling.weebly.com
Follow Leah on Twitter at http://twitter.com/DogWilling and also on Dog Willing's Facebook page.
Photos and videos of classes and Puppy Socials can be found at the Dog Willing facebook photos page.
Blog posts by Leah Roberts