A Girl & Her Dog
Kelly Gorman Dunbar
| Wed, 10/29/2008 - 07:16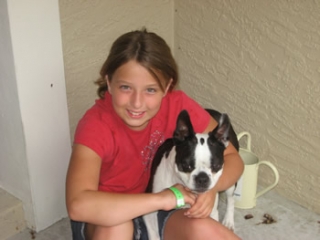 When I was a kid my dog Charlie Brown (a.k.a. Boo) was my very best friend. I picked him out when I was just five years old and he had the grace to stay with me through my final year of high school.  Through all the ups and downs of growing from young child to adult he was both my rock of support and my soft, furry, pillow of comfort. He allowed me to dress him up when I was young, accompanied me to show-and-tell, escorted me home from the school bus stop every day (hey, those were simpler times), and later licked away the tears from my first heartbreak. It's not an unusual story, I know, the story of a kid and her dog, but the memories mean a lot to me.
Recently I encountered a different kind of story about a girl and her dog, one that breaks the mold and takes partnership to a whole new level.
Fourth grader Sammy Senechal and her Boston Terrier Lucky are partners in ways that are similar to me and Boo, but it doesn't stop there – they are also partners in a new business venture.
In May they started Sammy's Dog Treats, a company that makes all natural hand-made treats for dogs. Sammy does all of the mixing and baking herself (with Mom's supervision) and Lucky has the title of "Official Taste Tester" and was part of the inspiration for the slogan, "Dogs really love them!"
I had the opportunity to interview Sammy the other day:

How did you get started in the dog treat business?
Last year I tried to start my own business walking dogs. I knocked on the neighborhood doors of people I knew had dogs. I was only 8 years old and no one believed me.  I wanted to make my own money. So I asked my mom if she could help me come up with my own business. Later we went to the library and looked up some recipes. We had to change them by adding vitamins and a safe preservative for dog and humans to eat.
What made you decided to branch out on your own at such a young age?
I wanted to save up for college.
How do you juggle both school and being an entrepreneur?
I spend my days at school and weekends and late afternoons are for making dog treats.
What are your favorite subjects in school?
Math and Music
What is the best thing about Sammy's Dog Treats?
Being famous, Lucky and I like the attention!
What flavor treats do you have?
Pumpkin, Plain, Milkbone, P-nut Butter
How does your dog Lucky help you with your business?
He is my taste-tester.
Does Lucky have a favorite flavor?
No, he loves them all.
You've already accomplished so much, what are your plans for the future?
I want to grow my business and then I want to have my own show on TV with my co-star Lucky.
How can people get in touch with you to buy Sammy's Dog Treats?
www.pawsnclawz.com or call me at 352-624-1719
Bone Appetit!