Jamie's amazing Universe Verse Book - Get it now for free!
Dr. Ian Dunbar
| Mon, 09/23/2013 - 16:38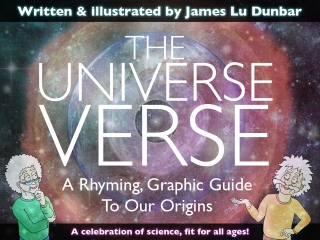 I love science, especially the behavioral sciences. That's why I couldn't be happier to announce that my baby boy, Jamie, has finished his epic ode to science, a project he's been working on for over 7 years! 
Of course Jamie is the James in James & Kenneth and along with Kelly and I, he is an integral part in keeping Dog Star Daily, James & Kenneth Publishers & SIRIUS Puppy Training all running smoothly.  On top of his many roles and responsibilities working with us in the doggy world he's found time to moonlight as a educational comic book author and illustrator.
The project he just finished, The Universe Verse, is a science-based, feeling-filled, rhyming comic book that explains in a very fundamental way where we all come from.  It presents some pretty complicated concepts in a very approachable manner.  We're talking about the Big Bang, the creation of time and space, antimatter, quarks, subatomic particles, fusion, stars, galaxies and supernova, planets, water, the essence of life, evolution, cells, DNA, the web of life, photosynthesis, the great oxidation event, respiration, endosymbiosis, eukaryotes, multicellular creatures, plants and animals, dinosaurs, humans and civilization. And did I mention it rhymes? 
So as you can imagine, it's quite a book.  If you're interested you can download if for free and take a look for yourself, but you'll have to act fast as it's only available until September 29th because that is when Jamie's Kickstarter campaign ends.
For anyone who has never heard of Kickstarter, it's a neat little website that lets people raise money in advance for creative projects by offering rewards, thereby enabling the projects to come to fruition.  Jamie set out to raise $10,000 to print his book in hardcover.  He surpassed that initial goal, so the book will in fact be printed in hardcover and if you'd like to pre-order a first edition hardcover, you've still got time if you visit the Kickstarter page. 
Now, with the initial goal surpassed he's set further goals that would trigger him to release the book for free to the public in a couple cool ways.  The first possibility is he would redraw The Universe Verse as a coloring book and release it as a printer friendly PDF eBook.  The second possibility is as a free video posted on YouTube.  
I think both would make wonderful tools for spreading science excitement and knowledge among the general public, which I certainly think is something we desperately need to do as a society.  Take a look at the campaign page, and maybe even get yourself a cool reward. However, please heed Jamie's warning that the "... book contains graphic depictions of scientific knowledge which may lead to decreased ignorance and heightened sensations of awe and wonder."
I couldn't be prouder, way to go Jamie!
Products from Dr. Ian Dunbar