Waltzes with Dogs - Doggy Dancing
Dr. Ian Dunbar
| Wed, 11/21/2007 - 11:55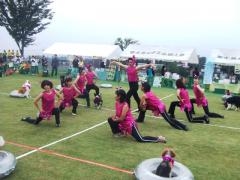 Each owner performs a unique choreography set to music. The various routines are marked out of 10 by a panel of five celebrity judges for both Technical Merit and Artistic Impression. The only rules are that the handler(s) has only 30 seconds to "set up" props and that the performance should last less than three minutes. The rest is left to the handler's and dog's creativity and imagination. Waltzes With Dogs is the signature event of the K9 GAMES.
Training Tips
Waltzes with Dogs is all about a close and special relationship between a dog and owner, who both thrill in having a good time together and entertaining spectators. Both dog and handler alternate between leading and following, each adjusting to the other to cover up mistakes. In this event, other competitors, spectators and even the judges smile and clap and laugh out loud when they see the amazing connection between handler(s) and dog(s). Handlers come up with the most creative and captivating routines, often moving, sometimes quite bizarre, but always a joy to watch. I won't attempt to explain, just watch the videos.
Coordinated group performances are usually pretty hard to pull off, especially with an obedience drill team format because if just one dog makes a mistake, it stands out like a sore thumb. Groups need to practice, practice, practice until perfect and then pray that the performance will still be perfect on the day. One dog/one handler performances are usually easier to pull off because it is easier for handler and dog practice more often and easier for them to cover up mistakes during the final performance. However, recently, several Japanese teams have come up with unique group choreography, with each handler performing different (often pretty crazy) routines.
But regardless of the competition, dancing with your dog is simply the best of activities — a wonderful way to wind down after a hectic day at work. Just be yourself. Relax. Let go. Enjoy your dog. It only takes two to tango!