Preventing Adolescent Problems
Dr. Ian Dunbar
| Wed, 11/28/2007 - 12:23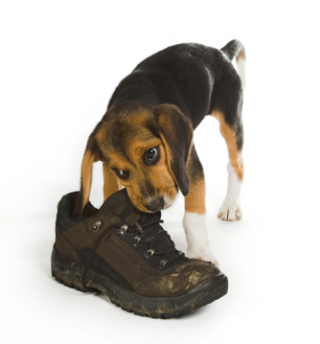 Always make a point of praising your dog and offering a couple of treats whenever he eliminates in the right place. Keep a treat container by your dog's toilet area. You need to be there anyway to inspect and pick up your dog's feces (before the stool becomes home and dinner for several hundred baby flies). Remember, you want your dog to want to eliminate in his toilet area and to be highly motivated to do so, even when he develops geriatric incontinence.
Similarly, a stuffed Kong a day will continue to keep the behavior doctor away. Your dog still needs some form of occupational therapy to idle away the time when left at home alone. There is no magic potion and there is no drug that will prevent household problems, such as destructive chewing, excessive barking, and hyperactivity, or alleviate boredom, stress, and anxiety as quickly, easily and effectively as stuffing your dog's daily diet of kibble into a few Kongs.
For your adolescent dog to continue to be reliably obedient and willingly compliant, you must integrate short training interludes, especially emergency sits and long settle-downs, into walks, play sessions, and your dog's other enjoyable day-to-day activities. Maintaining your dog's manners through adolescence is easy if you know how to, but extremely difficult if you don't. You must learn how to integrate training into the dog's lifestyle.
Should socialization ever fail and your dog snap, lunge, or nip a person, you will be thankful that you had the good sense to take your puppy to classes where he learned reliable bite inhibition. Your dog's defensive actions cause no harm but they warn you that you'd better quickly revamp your dog's socialization program and maintain his bite inhibition exercises before it happens again. Which it will. Continue bite inhibition exercises indefinitely. Occasionally handfeed your dog and examine his muzzle and teeth (and maybe clean them) on a regular basis.
The secret to a well-socialized adult dog is at least one walk a day and a couple of trips a week to the dog park. Try to find different walks and different dog parks, so that your dog meets a variety of different dogs and people. Socialization means training your dog to meet and get along with unfamiliar dogs and people. The only way to accomplish this is for your dog to continue meeting unfamiliar people and dogs daily. Praise your dog and offer a piece of kibble every time he meets an unfamiliar dog or person.
And don't forget to maintain your own improved social life by inviting your friends over at least once a week, just to keep them still involved in training your dog. Ask them to bring along somebody new to meet your dog.
Host a puppy party and invite your dog's buddies from puppy class and the dog park. To offset some of the scarier aspects of the dog world at large — adult dogs, big dogs, and occasionally unfriendly dogs — make sure your adolescent dog has regular opportunity to socialize and play with his core companions from puppy school.
Adapted from AFTER You Get Your Puppy by Dr. Ian Dunbar