The Complete Dr. Dunbar Collection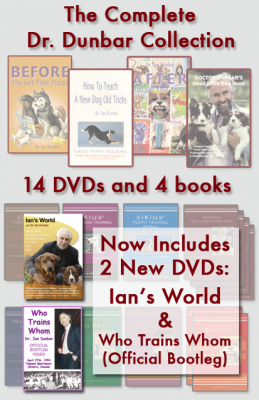 Purchase all of Dr. Ian Dunbar's Books and DVDs and receive a discount of over 40% - A retail value of $466.75 for just $275.
Includes 4 BOOKS – BEFORE You Get Your Puppy, AFTER You Get Your Puppy, How to Train a New Dog Old Tricks and Dr. Dunbar's Good Little Dog Book.
and 14 DVDs – The all-new Ian's World & Who Trains Whom (Official Bootleg) plus SIRIUS® Puppy Training Classic, SIRIUS® Puppy Training Redux, SIRIUS® Adult Dog Training, Training Dogs with Dunbar, Dog Training For Children, Every Picture Tells a Story, Canine Aggression: Biting, Canine Aggression Fighting, plus the set of 4 Training the Companion Dog DVDs.
Now available as an online course with Udemy. Download the ebooks & videos, or view them online from anywhere in the world. To learn more, click on the Download link below.
Other products you might be interested in