5.07 Using a Growl Class to Resolve Dog-Dog Aggression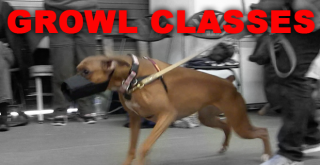 Want to observe a Growl Class right now? Use this link to save 20% off the price of Ian's single-day Growl Class, in the form of an online video you can download or stream online instantly.
What is a Growl Class and when might it be useful? These are classes that are intended to help dogs that are aggressive towards other dogs, but friendly towards people. These days there are a lot of dogs that fit that description, and it can be a very difficult and time-consuming problem to address. Growl classes can be stressful, but they can also produce a lot of progress very quickly. Before admitting a dog into such a class you should learn their Bite / Fight history to make sure that they have solid bite-inhibition.