Take My Dog Out to the Ball Game
Lisa Spector
| Tue, 08/04/2009 - 19:51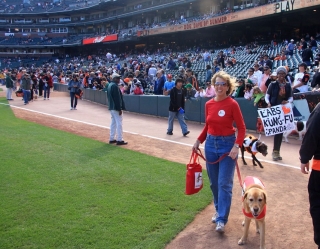 My dog, Sanchez, and I participated in the Dog Days of Summer on Saturday. The San Francisco Giants were playing the Philadelphia Phillies and invited dogs to attend the game, an annual activity at the AT&T ball park. A portion of proceeds benefited the San Francisco SPCA and dogs had their own bleacher "seats". When I learned that they were expecting 600 dogs, I thought it would be great fun for us. After all, Sanchez is a career change dog from Guide Dogs for the Blind and had a great amount of experience in large crowds, in a variety of social settings, when he was in training as a puppy. I hadn't been to a ballgame since I left New York, over 20 years ago, so I thought I would also enjoy the experience.
Before the game, I took Sanchez for a long off-leash hike, wanting to tire him out before the big event. When I got to the ballpark, I was immediately impressed by the organization. There were very helpful volunteers from the SF/SPCA all around. Kiddie pools were everywhere for drinking water for all the dogs. The parade was very fun. We all got to walk around the outside of the field and sometimes saw our pictures with our dogs up on the large screen. I was pleased with how well-behaved all the dogs were. We then found our seats in the bleachers. (I could speak on the danger of dogs placed too closely together, but I'll leave that for an animal behaviorist to write about.)
All was fine, until the game actually started. My last time at a baseball game was at Shea Stadium to see the Mets in 1986. Mets fans are not known to be subdued, so I doubt it was a quieter environment than a Giants game. But I was younger and wasn't yet aware of sensory overload. When the game started and all of the yelling and screaming and music that augmented it began, I realized that all the dogs were being subjected to a very stressful soundscape. I became concerned that this was not a conducive environment for calm dogs. Because Sanchez is a Labrador, his oral stimulation took over his aural awareness. By appearance, he seemed as happy as can be with his nose searching all the peanut shells and spilled food on the ground. In addition, people were tossing him French fries because he's just "so cute". As you can imagine, that's one of my top pet peeves (pun intended).
By the 3rd inning, it was obvious that dogs around us were getting stressed and confused. I decided to take Sanchez outside the ballpark for a walk. I knew of a grassy area nearby where he could run off leash. This was a good stress reliever for him. While we were outside, the Giants scored and I was grateful to not be inside the park with my dog, as the sound would have been deafening. I stayed outside as long as I could, without taking the risk of the game ending and not being able to find my ride home.

By the end of the game, I fully realized that I had brought my dog into a very stressful sensory environment. Baseball games are designed for people and hot dogs, not four legged furry dogs. The rolling levels of excitement and sound are meant to provide a good time. However, our dogs don't understand why people get up and yell at an error or homerun. Too much stimulation can cause confusion for animals. This leads to anxiety and distress because animals, like humans, want to understand the cause of events. While the intentions of all participants were honorable and good, I suggest that there is another way to raise money and bring awareness to the plight of animals without causing them distress.
I am the co-creator of www.ThroughADogsEar.com and know how our soundscape affects our dog's stress levels. I consider it my responsibility to be aware of the sound environment I subject my dog to. My desire to support this event overtook my ability to really think through the situation. I commit in writing now to pay more attention to his sound environment, as well as mine, and to become a sound-aware dog guardian. Those of us who love dogs assume that our environment is the best for our dogs. However, sometimes, it requires a different way of thinking, to assess whether what works for us, works for our canines, as well. This is my definition of a sound-aware dog guardian.