New York Times And More
Dr. Nicholas H....
| Fri, 01/29/2010 - 10:34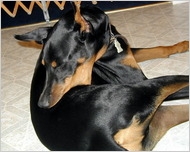 I know I keep going on about this but, in case you didn't all know, a can be a little obsessive and compulsive myself! It's an occupational hazard of academia. Anyhow, I thought I would send on the well-written link to a NYT article about our gene discovery because the writer makes the point way better than I ever could. Maybe this will be more intelligible than my ramblings…
http://www.nytimes.com/2010/01/19/science/19dogs.html?ref=todayspaper
I know this second link may be a bit on the heavy side but some may enjoy and perhaps even appreciate our latest contribution (link below) about a new treatment for HUMAN obsessive-compulsive disorder that Dr Louis Shuster and I developed here at Tufts as a result of our findings in ANIMALS (including dogs).
http://journals.lww.com/psychopharmacology/Abstract/2010/02000/A_Single_Blinded_Case_Control_Study_of_Memantine.6.aspx
Usually new medical treatments for dogs originate from prior experiences of the treatment in people. This time the flow reversed and we sent our ideas upstream. Dr. Evelyn Stewart, a brilliant young psychiatrist, put the results of the study together under the watchful eye of last author, Dr. Michael Jenike, a living legend in the field of OCD. It's good to have friends in high places!