Katie Buvala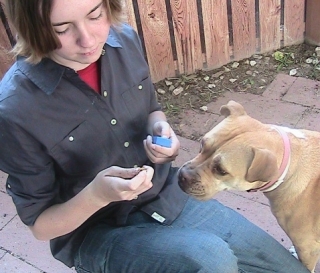 Katie Buvala is a dog trainer and blogger from Phoenix, Arizona. She runs Focus, Fido! Dog Training, specializing in teaching hyper, out-of-control dogs to chill out, focus, and listen to their owners.
Katie's training techniques are based on the work she's done with the most hyper, wound-up dogs there are: those who have spent weeks or months living in cages in animal shelters. Katie began doing volunteer work in the world of animal rescue in 2003. Over the years she has held the roles of kennel cleaner, dog walker, trainer, and adoption counselor.
Katie runs the dog training blog3LostDogs.com, which provides training how-to articles and videos geared toward owners of adopted/rescued dogs. Katie started 3LostDogs after seeing so many animals surrendered to shelters because of behavior problems that could have been fixed. The blog aims to help dog adopters solve their canine issues so that fewer dogs end up in the pound.
Katie trains and competes in agility and disc dog with her own adopted dogs, the three "lost" dogs for whom 3LostDogs.com was named.
Blog posts by Katie Buvala