Karen Wild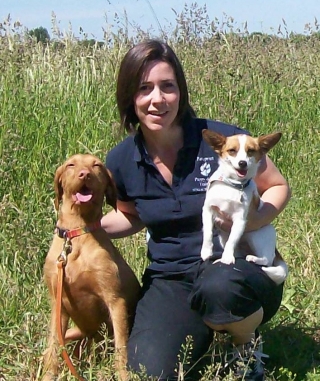 Karen Wild BA (Hons) Dip App Psy, is a full-time U.K. dog trainer and behaviour consultant with over 20 years in the field. She has a degree and diploma in Psychology from the University of Nottingham,
Karen is a Certificated Clinical Animal Behaviourist (CCAB) and is a full member of the Association of Pet Behaviour Counsellors (APBC). She is a registered Animal Training Instructor (ATI) and Clinical Animal Behaviourist with the Animal Behaviour and Training Council (ABTC).
Karen has authored five books on dog and cat behaviour. The most recent is 'Being a Dog' (Hamlyn publishing), but also What your Dog Wants, 21 Days to the Perfect Dog, and co-authored The Pawfect Guide to Thinking Like a Dog and The Purrfect Guide to Thinking Like a Cat with well-known Vet Emma Milne.
Karen is a regular speaker including the Association of Pet Behaviour Counsellors annual conference and the British Veterinary Nursing Association (BVNA) Congress as well as regional British Small Animal Veterinary Association (BSAVA) events.

Karen's work focuses on training and rehabilitation of dogs - and their owners! She has specialised in behaviour and puppy work for the last few years, but her dog career has ranged from class teaching, obedience, flyball, agility and working trials competition to running a popular dog display team. When she started her own family Karen realised there was a genuine need for one-to-one help with dogs in the family environment. Her passion is to create and rebuild the 'enjoyment factor' that can come from family dog ownership.
Karen strongly believes that there is 'always a way' and prides herself on her commitment to uniting families with their dogs.

Karen has a number of famous clients including politicians, film directors, journalists, models and television personalities and is noted for her down-to-earth friendly approach. She is a regular contributor to Dogs Today Magazine.

Karen's friendly, fair and family-focused approach to dog training can be accessed via her site www.pawprintpets.com or why not email Karen on [email protected] ?
Blog posts by Karen Wild