Karen Wild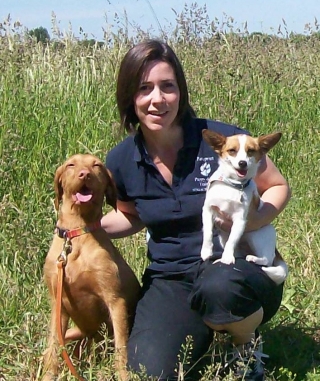 Karen Wild BA (Hons) Dip App Psy, is a full-time U.K. dog trainer and behaviour consultant with 17 years in the field. She has a degree and diploma in Psychology from the University of Nottingham, is a full member of the Association of Pet Behaviour Counsellors (APBC) and is an Associate Member of the British Institute of Professional Dog Trainers (ABIPDT).
Karen's work focuses on training and rehabilitation of dogs - and their owners! She has specialised in behaviour and puppy work for the last few years, but her dog career has ranged from class teaching, obedience, flyball, agility and working trials competition to running a popular dog display team. When she started her own family Karen realised there was a genuine need for one-to-one help with dogs in the family environment. She formed Intellidogs.com which specialises in online and practical advice in this area. Her passion is to create and rebuild the 'enjoyment factor' that can come from family dog ownership.
Karen strongly believes that there is 'always a way' and prides herself on her commitment to uniting families with their dogs. She is widely sought after for her skills in finding and introducing puppies to family homes - for life.
Karen has a number of celebrity clients including film directors, journalists, models and television personalities and is noted for her down-to-earth friendly approach. She is a regular contributor to Dogs Today Magazine. She also records a weekly dog podcast listed on iTunes: 'The WildPaw Podcast' dealing with dog issues both training and behavioural. Karen's work with dogs and young people includes her recent programme to bring more dogs into schools in the UK.
Karen's friendly, fair and family-focused approach to dog training can be accessed via her site www.Intellidogs.com or why not link up on Twitter? www.twitter.com/wildpaw
Blog posts by Karen Wild