Jennifer Merritt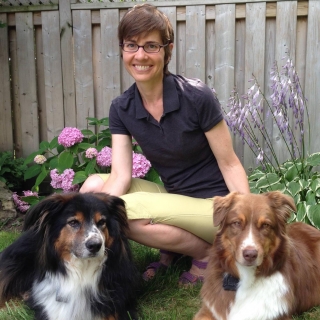 Jenn Merritt, CPDT-KA has been a science based, professional dog trainer for over 15 years, is owner of Blue Dog Creature Coaching in Hamilton, Ontario and co-founder of Good Dog in a Box. 
Through Blue Dog, Jenn offers in-home private training and behavior problem solving for families in the Halton Region of Ontario. She specializes in the Tellington TTouch Method and parent education and support for families preparing for life with a dog and a baby. 
Good Dog in a Box promotes positive reinforcement dog training to families with children. The innovative programs, techniques and resources help families with children build a stronger bond with their dog, while teaching children to be safe around all dogs.
Jenn also founded K9Kindness, a community based, humane education organization that promoted the use of positive reinforcement dog training methods and equipment.  A main facet of K9Kindess became the development of Kids4Kindness, a 7 week humane education and pet responsibility program for 4th graders based on the highly successful Moore County Pet Responsibility Program.
Jenn is certified by the Certification Council for Pet Dog Trainers, a professional member of the Canadian Association of Professional Pet Dog Trainers, a Guild certified Tellington Touch Companion Animal Practitioner, a Family Paws Parent Educator, a Licensed Presenter of the Dogs & Storks™ educational program. and is Vice President of the Burlington Humane Society board of directors in Burlington, Ontario.
In her spare time, Jenn contributes to dog training journals, magazines, and blogs including the Association of Pet Dog Trainer Chronicle of the Dog, DogFancy and The Good Dog Blog. In 2011, Jenn was nominated for the prestigious Maxwell Medallion for excellence by the Dog Writer's Association of America for her series on the TTouch Method. Jenn also has produced a DVD on dog park safety/play behaviors and a set of DVDs for TTouch, documenting the 30th anniversary "Cellebration" with Linda Tellington-Jones. The TTouch DVDs are available at www.ttouch.com
Blog posts by Jennifer Merritt