New Free Course – Six Simple Steps to Solve Your Dog's Behavior Problems
James Lu Dunbar
| Thu, 02/11/2021 - 11:44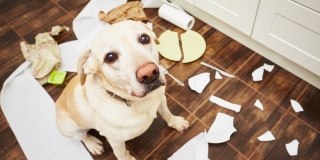 We've just published a new FREE course on Dunbar Academy called Six Simple Steps to Solve Your Dog's Behavior Problems.
This course is filled with short videos and downloadable documents that provide the easiest, most effective, and most enjoyable dog training techniques for resolving all of the most common dog behavior problems.
If you are struggling with dog behavior problems, you should sign up for this course and complete it ASAP. It's filled with easy to use tips that can bring immediate improvements to your dog's behavior and with it, you and your dog's quality of life.
The Six Steps explained in this course include:
Step #1 – Unlock the power of one of the most useful tools in dog training
Step #2 – Get Your dog to literally train themselves when you are away from home
Step #3 – Prevent your dog from getting into trouble when you're not watching
Step #4 – Ensure your dog always pees and poops in the right place
Step #5 – Give your dog the confidence they need to feel at ease in any situation
Step #6 – Get your dog to do what you want, when you want them to
Again, this course is completely free, so if you are struggling with dog behavior problems, you should enroll in this course now. You could finish the course in an hour and by the end of the day you could make some significant progress.
A lot of dog behavior problems can be substantially improved in a single day, sometimes even a single session.
Other problems take more time and persistence, but no matter what type of problem, if you use the right dog training methods, you should be able to see measurable improvement in your very first training session. If you've been trying to address your dog's behavior problems and you haven't seen any improvement, then you're either using the wrong methods, or you're using the right methods incorrectly.
The beauty of good dog training is that it works. If you're doing it right, your dog's behavior should improve in observable ways.
So sign up for this free course, and try the super simple exercises and watch your dog's behavior improve.