Good Old Dog
Dr. Nicholas H....
| Mon, 09/13/2010 - 08:51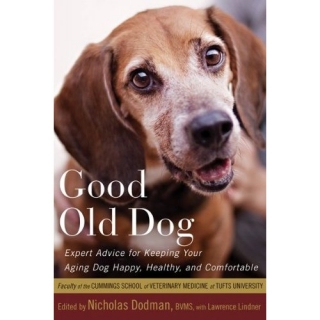 This post is just to let y'all know about a forthcoming book created with input from the faculty of Tufts Cummings School of Veterinary Medicine. The book, called Good old Dog, deals with everything you or your clients would ever need to know about caring for an older dog.
Chapters include Old IS Not a Condition, How to Make Sure You're Choosing the Right Diet, Protecting Joints Stops Pain, The Price of Aging Gracefully, Might the Changes You are Seeing Be Dementia? End of Life Decisions … and so on.
Did you know that there is no legal meaning for "senior" dog food? Did you know that diets billed as senior may contain more or fewer calories per cup than regular food so your dog may lose or gain weight when switched? Did you know that having rotten teeth can make a dog more irritable and aggressive and that a dental "prophy" can reverse the bad mood? Or how about the fact that doggy Alzheimer's disease can be slowed down or reversed in some cases?
All this information and much more is contained within the pages of this wonderful book (even though I say it myself that edited it!). If you want a preview of the book, just look on Amazon.Com. I think you will agree that the cover is magnificent and in this case you can judge a book by its cover. Dr. Nicholas Dodman
P.S. My next Well-Adjusted Dogs seminar is coming up next month in Pittsburgh, PA. Check it out on my website ThePetDocs.Com under events