Genie Tuttle CPDT-KA CNWI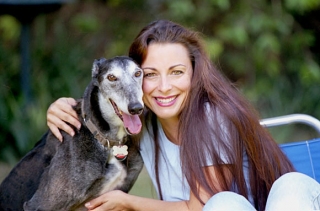 Genie Tuttle is a Certified Professional Dog Trainer-Knowledge Assessed (CPDT-KA) and a Professional Member of the Association of Pet Dog Trainers (APDT). Genie has a Bachelor's degree in Communication from California State University, Northridge and has been training dogs of all breeds for more than 25 years. A lifelong dog lover, she has worked for private training companies, Parks and Recreation departments and a big box pet supply chain prior to launching her own business, Dog Genie in 2003. Dog Genie is a training company specializing in teaching people how to successfully use positive communication techniques with their dogs for a lifetime of happiness and understanding. From group clicker training classes, to customized private lessons, Genie enjoys teaching people in and around Southern California the power of positive reinforcement. Her background is in Corporate Communications, Public Relations, Marketing Operations, Fundraising and Event Planning.
Genie has been a greyhound owner since 1993 and serves on the Board of Directors for Homestretch Greyhound Rescue & Adoption, an official 501(c)(3) charity located in Fillmore, California where she serves as the Director of Media Relations and Training.
Genie can be reached at: [email protected] or www.doggenie.com
Blog posts by Genie Tuttle CPDT-KA CNWI