Edie Jarolim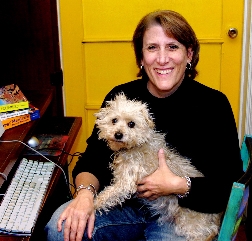 Edie Jarolim earned a Ph.D. in American literature from New York University; edited guidebooks at Frommer's, Rough Guides, and Fodor's; published myriad travel articles and three travel guides; and generally led a respectable but dogless life until 2004, when she began palling around with terriers--specifically, one small terrier mix named Frankie. Cluelessness about dogs in general and Frankie in particular inspired her to begin reading up on all things canine and, eventually, to write AM I BORING MY DOG: And 99 Other Things Every Dog Wishes You Knew (Alpha/Penguin).
She would not have had the nerve to blog in the company of the experts at Dog Star Daily -- many of whom are cited in her book -- if she hadn't joined the APDT and, at the 2008 conference in Louisville, KY, discovered that Ian and, especially, Kelly Dunbar were not very scary. As a result, she asked Kelly to blurb her book for inclusion in the DogWise catalog and got the following:
"Edie Jarolim's new book... addresses all sorts of questions about choosing and living with a dog. But this is no ordinary dry, informational dog book. The humorous and conversational tone makes this the most palatable dog book in ages. It's an excellent book. I've never seen anything quite like it. "Am I Boring My Dog" is extremely thorough and covers an interesting and unique array of questions that pop up when one gets a dog for the first time. Questions I've never seen addressed anywhere else.
This book is must-have resource for anyone contemplating getting a dog, all first-time dog owners, dog professionals, and every dog-lover in general; really it's a book for anyone who wants to do the very best for their dog."
Edie lives in Tucson, Arizona, where she blogs at http://willmydoghateme.com. She is a frequent contributor to Your Dog, the newsletter of Cummings School of Veterinary Medicine at Tufts University, and is working on a book on pet travel. She devotes much of the rest of her time to keeping Frankie from becoming bored.
For more information on her freelance writing and editing, see www.ediejarolim.com.
Blog posts by Edie Jarolim