Drayton Michaels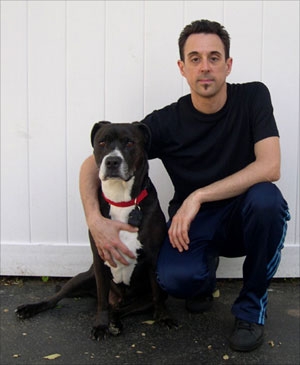 Drayton Michaels has been working with dogs professionally for over a decade.  He honed his dog training chops while working as dog walker in both NYC and Seattle.  In May of 2007, Drayton received his certification in dog training and behavior consulting from the San Francisco SPCA Academy for Dog Trainers, directed by award-winning author and dog expert, Jean Donaldson.  He owns and operates Urban Dawgs and Pit Bull Guru with his wife Vyolet, also a graduate of the Academy.  Drayton frequently attends continuing education seminars and continues to study dog training and behavior independently.
Upon graduating from the Academy, Drayton started a specialty subsidiary of Urban Dawgs called Pit Bull Guru to offer modern, reward-based training and behavior consulting for Pit Bulls of all ages.  At the Urban Dawgs training facility, Drayton teaches public classes, directs the day-training program, works one-on-one with clients and dogs, and presents dog training and behavior seminars/workshops; including Pit Bull awareness seminars.  He has logged countless hours counseling dog owners, shelter staff, rescue organizations and clients to train and modify behavior issues in dogs with utilizing modern, humane methods.
Drayton has devoted the past 7 years to documenting the current state of Pit Bulls in America; interviewing world-renowned trainers and behavior specialists to debunk common myths about pit bulls and educate the public on basic care and training needs for pit bull dogs.  Drayton has interviewed some of the best and brightest of the professional dog world including interviews with Jean Donaldson, Dr. Ian Dunbar, Diane Jessup, Jane Berkey (Animal Farm Foundation), Karen Delise (The Pit Bull Placebo), Dr. Nicholas Dodman, Dr Karen Overall, and Marthina McClay of Our Pack.  Drayton also interviewed people at the Vick sentencing and others around the US.  He has documented stories about some of the many wonderful Pit Bulls that have beaten the odds to become ambassadors of the breed.
Drayton released The Pit Bull Hoax in April 2009.  The 13-min educational DVD directly addresses the BSL issue and provides legitimate and accurate information to legislators, media and communities.  Visit www.pitbullguru.com/hoax.html for more information.  You can also view The Pit Bull Hoax on You Tube.
Recent Appearances:
Appeared on MY9 NY (FOX) discussing Pit Bulls
Guest Speaker at Pinups For Pit Bulls Pit Awareness Events
Featured dog trainer in Dog Fancy Magazine - Training Secrets for Pit Bulls
Interviewed for Beyond the Myth - a film about the effects of BSL on Humans and Dogs
Read more blogs from Drayton at Trainer Tails
Drayton is the proud dog dad to Mojo, a 14-year old Labrador/American Staffordshie Terrier Mix and Keyshia, a 9-year old female American Pit Bull Terrier.  When he is not training dogs, Drayton can be found making music or in the kitchen cooking vegan delights.