Dog Owner Education: Factual Learning Online; Hands-On Practice in Training Class
Dr. Ian Dunbar
| Fri, 07/26/2019 - 11:04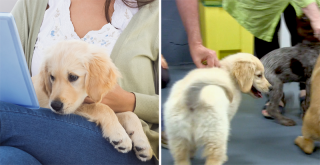 Many years ago, one of my Japanese students conducted a survey of off-leash puppy classes in the SF Bay Area. A basic index that she scored was the percentage of time that puppies were off-leash, being trained by their owners, interacting (socializing) with other people, or playing with other puppies as opposed to the percentage of time that puppies were on-leash, while owners sat in chairs listening and watching the instructor lecture, or demonstrate. The results were quite shocking. In all of the classes surveyed, puppies spent 50–75% of the time on-leash! Neither an efficient nor an effective means to teach puppies the skills they need. Aside from the fact that owners were not learning off-leash training skills, there was limited time for puppies to interact with people and other puppies and so, were not learning bite-inhibition or social savvy — the primary and secondary reasons for attending puppy classes.
At SIRIUS®, we made immediate changes, so that our trainers did not have to lecture or demo so much in class. We updated the registration process to automatically grant access to download two free eBooks — BEFORE You Get Your Puppy and AFTER You Get Your Puppy plus three free DVDs — SIRIUS Puppy Training, SIRIUS Puppy Training REDUX and SIRIUS Adult Dog Training. More recently, we added a three months free subscription to the Dog Lover's Libraryat DunbarAcademy.complus Pre-Class Homework — pretty much a list of URLs (read this, watch this and practice) based on FAQs, i.e., questions that owners would be bound to ask in class if we didn't provide answers beforehand.
We saw an enormous effect in classes. Incoming puppies were more confident, especially around the people in class (strangers), owners experienced fewer behavior problems at home and their pups mastered the off-leash training exercises much quicker.
We strongly believe that:
1. Factual learning should occur at each individual's own pace and in the comfort and convenience of their own home, especially in terms of the most urgent and important aspects of puppy husbandry — socialization and handling/training by numerous people (family, friends, neighbors, etc.) and preventing predictable behavior problems.
2. Later, puppy classes should focus on puppies being handled and trained by even more unfamiliar people, monitoring and molding pup-pup play styles and practicing and perfecting basic off-leash manners.
So many puppy owners experience problems with their new puppyies as early as the first few days and weeks in their new home. Consequently, we made the two eBooks available for anyone to download for free from the Free Course Collection at Dunbar Academy.com, especially for trainers and other dog professions to email to new puppy owners. The two books are a marvelous adjunct to classes and consultations. They mainly focus on the urgent and important — preventing predictable behavior and temperament problems — information that owners require right away at home. Additionally, they jump-start off-leash training, so that classes can be more productive and fun.
Moreover, individual dog trainers may customize the two eBooks with their own company name and contact information and email them to all their existing clients plus other dog professionals — breeders, veterinarians, pet stores and shelters/rescues (to email to their clients/customers). Thus, dog trainers may brand their business in the community as the one that is trying to make a difference by starting a Puppy Owner Education Program.
Products from Dr. Ian Dunbar