Deborah Flick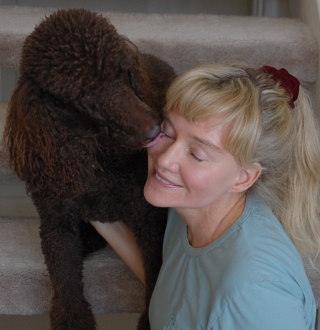 A life-long dog-lover, Deborah was mostly asleep-at-the-leash with her dogs until Sadie, her fearful, reactive 4-year old standard poodle, came along in the fall of 2006 with a wake-up call: You cannot sleepwalk through life with a fearful dog! (Well, you can if you want to risk turning your life and your dog's life into nightmare!)
Deborah wasn't willing to take that risk. Within days of Sadie coming home, and under the weekly guidance of a positive trainer, Sadie and Deborah began attending puppy kindergarten classes and going on socialization expeditions. Still today, four years later, Sadie and Deborah are committed life-long learners because: "When you love a fearful dog, there's always something!"
Since Sadie entered her life, Deborah's interest in all things dog has evolved from a "need-to-know" basis into a serious passion. In April, 2009 she inaugurated the Boulder Dog Blog on which she writes about her experiences with Sadie and how she challenges Deborah to see the world through a dog's eye.
Deborah also enjoys delving into the many controversies swirling through the contemporary world of dogs and dog training. In particular, she's interested in how our use of language and narrative shapes the way we see our dogs, and consequently, how we treat them.
When not spending time hiking with Sadie, training Sadie, socializing Sadie, preparing meals for Sadie, chauffeuring Sadie to play dates, and being otherwise engaged with Sadie, or writing blog posts, Deborah is a communication and dialogue consultant, author, and owner of Collaborative Solutions Group. She earned her Ph.D. in Communication at the University of Colorado at Boulder.
Deborah lives in Boulder, Colorado with Sadie and her husband, Ira.
Blog posts by Deborah Flick