COLLIGNON CATHERINE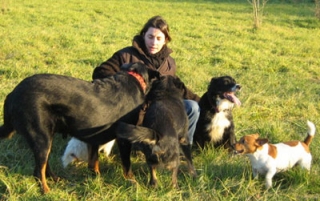 Catherine Collignon is engaged in the pet dog training profession in France with a specialization in behavioral rehabilitation.
In 1993, she studied psychology at the CERFPA (Center of Study, Research and Formation in Applied Psychology, Nice -France) with a special interest for canine social behavior and aggression.
She is the founder and owner of ANIMALIN, the School of Clicker Training, Dog Training, and Animal Behavior. A vocational training center with courses dedicated to anyone who wishes to practice pet dog training following ANIMALIN's philosophy. ANIMALIN was the first training school in France with a specialization in clicker training.
In 1999, she attended the Association of Pet Dog Training (APDT) conference in San Diego and became an APDT member.
In 2000, she studied at the Northern Centre for Canine Behaviour (Durham - England) with John Rogerson.
Since October 2001, she teaches dog training methods and clicker training to the Toulouse National Vet School students.
In 2003, she started her collaboration with the Toulouse Guiding Dogs School, and she advises as a teacher in the further education cycle of the French Federation of the Guiding Dogs Associations.
In 2004, she produced her first DVD, "The Clicker Upside Down" a 120 minute-film about clicker training.
In March 2006, she was acknowledged by the Edward Bach Foundation (Mount Vermont - England) as a Bach Flower Remedies Counselor.
May 2006, she founded the MFEC (French Pet Dog Trainers Movement) with Ian Dunbar. This association takes its goals from the APDT. With the support of the MFEC, Catherine organizes an annual congress with French and international speakers. The first two editions of this event took place in Paris (France) in May 2006 and May 2007 with Ian Dunbar as a special guest.
Currently she is the manager of a new-born publishing company, Les éditions du Génie Canin, whose first publication is the French version of the now famous Ian Dunbar's book "How To Teach A New Dog Old Tricks".
She is also the French adapter of Sarah Hodgson's book "Puppies For Dummies" (First Publishers).
She writes articles for the following French magazines: Rottweiler News, Molosses News and Cyno Mag.
In 2007, Catherine will also introduce, as a dog-training teacher, one of the first French high schools preparing future professional dog trainers with government certification (Department of Agriculture).
"Along all these years, my education has been mostly built close to dogs, and I would like to thank all the dogs I have met, they will remain my Masters as far as animal behavior is concerned. And I won't forget my own dogs, who taught me that this whole story is just about communication."
- Catherine Collignon
Blog posts by COLLIGNON CATHERINE