Nicole Wilde, CPDT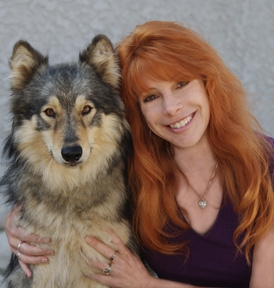 Nicole Wilde is a Certified Professional Dog Trainer (CPDT-KA) who specializes in behavior issues. She is a professional member of the Association of Pet Dog Trainers (APDT), the recipient of the prestigious Ian Dunbar Member of the Year Award for 2006, and a popular speaker at the organization's national and international conferences. Nicole is also an Instructor and on the Advisory Board for the Companion Animal Sciences Institute, the educational branch for the International Institute for Applied Companion Animal Behavior.
Nicole is an internationally recognized author and lecturer. Her 11 books include So You Want to be a Dog Trainer, Help for Your Fearful Dog, and Don't Leave Me!. She has presented seminars both domestically and internationally for APDT conferences, training clubs, and other groups.
Nicole writes training and behavior articles for various newspapers and magazines, including an ongoing training column for Modern Dog Magazine. She co-stars in the DVD "Train Your Dog: The Positive Gentle Method," co-hosted the "Dog Talk" radio show, and was featured in the Paul Owens DVD "The Dog Whisperer."
Nicole's experience includes a position as Volunteer Coordinator for the City of Los Angeles' Animal Services, where she instructed volunteers in canine handling and behavior, handled hundreds of dogs, and served as adoption counselor. She served as Executive Director for Villalobos Rescue Center, a sanctuary for rescued wolves/wolf hybrids, pit bulls and exotic animals. Nicole's specialty was socializing fearful wolves who were to live out their lives at the center. She also trained wolves and other canines at the center, and presented seminars for animal control officers, schools and specialty groups. Nicole's experience is rounded out by having worked at a doggy daycare (supervising 40-50 off-leash dogs daily!), a veterinarian's office, as Editor/Chief Writer for a Get-A-Pet magazine, and teaching group classes as well as private instruction.
Nicole owns and operates Gentle Guidance Dog Training in Southern California. With warmth, humor and positive techniques, she trains owner to train their dogs. Nicole continues to teach seminars for professional dog trainers, rescue and shelter workers, veterinary groups and others, and to educate the public on canine behavior issues.
Nicole's books and DVDs can be purchased through Phantom Publishing. 
You can find Nicole on Facebook at https://www.facebook.com/NicoleWildeAuthor
and follow Nicole on Twitter at https://twitter.com/NicoleWilde