Suzanne Clothier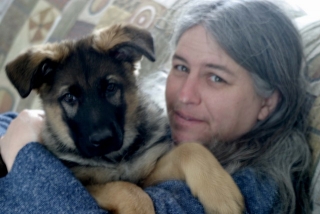 Involved professionally with dogs since 1977, Suzanne's background is widely varied, with experience in breeding, kennel management, grooming, showing, training, canine midwifery, puppy aptitude testing, instructing, behavior consultations, in-home training, K-9 Search & Rescue, holistic health care and various club memberships & activities. 
She served as a committee member for the American Humane Association's Task Force for the Development of Humane Standards for Dog Training, and as a member of the AKC's Agility Advisory Board.  She has taught seminars on a wide variety of topics in the US, Canada, Australia, New Zealand, Japan, Belgium, and Italy, and spoken from groups as diverse as FEMA Northeast Region Disaster Dog Teams, Association for Pet Dog Trainers, Alaskan Dog Mushers Association and Wolf Park.
Currently, she is a consultant for Guiding Eyes for the Blind's Canine Development Center in Patterson, NY, developing a relationship based approach to the GEB puppy raising program, created using her Relationship Centered Training techniques and philosophy.
She continues to teach seminars in the US and internationally, and is developing new educational materials.  Her book, Bones Would Rain from the Sky: Deepening Our Relationships With Dogs (Warner, 2002) has received widespread acclaim, and has been published in German and Italian.  Read an excerpt from Bones.
Listed in "Who's Who in Dogs" by Connie Vanacore (McMillan, 1998), Suzanne is an award winning author whose articles have been reprinted worldwide by dog trainers, clubs, humane societies, veterinarians and breeders.  Suzanne has been featured & quoted in various articles for a wide range of magazines as well as a number of books from a variety of authors, and has been a consultant for Steve Dale's syndicated pet column..  Her work has been published in the AKC Purebred Dog Gazette, Dogs In Canada, Dog Fancy, Wolf Clan, Delta Society, APDT Newsletter, Off Lead Magazine, TTEAM Practitioners Newsletter, German Shepherd Review.  She has appeared on numerous radio interviews in the US and Canada.
She is also a long time breeder of German Shepherd dogs.  Dogs produced by her Hawks Hunt breeding program have been active and successful in obedience, therapy dog work, tracking, agility, herding, Search & Rescue, and as companions.  
Suzanne's life is shared with husband John Rice, and together, they care for a lot of animals - dogs, cats, parrots, tortoises, horses, donkeys, cattle, pigs, chickens, fish and other creatures that find their way to Hawks Hunt Farm.
More info about Suzanne, her writings, and seminars can be found at her website, Flying Dog Press.