Dr. Jennifer Messer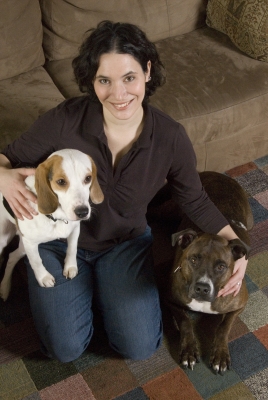 Jennifer completed her Bachelor's Degree at McGill University in 1993, graduating with first class honors in Psychology. She then went on to study Veterinary Medicine at the Ontario Veterinary College in Guelph, Ontario, and graduated as a Doctor of Veterinary Medicine in 2001. During her years as a veterinary student, she established and operated Montessaurus Puppy School – the first puppy school in Guelph - where she now serves as the curriculum consultant.
Jennifer has given numerous lectures and workshops to veterinarians, dog trainers, veterinary students, government agencies, and the general public on a variety of canine behaviour topics, including aggression and early training and socialization. She has been featured on television, written extensively on canine behaviour for the popular media, and has been a longstanding columnist for Modern Dog magazine.
Jennifer is well recognized as a leader in curriculum development for young puppies. Puppy class instructors worldwide use her comprehensive puppy class program, The Kinderpuppy Course - A Curriculum Manual for Instructors, published by PavSki Canine Educational Resources. She has also designed and implemented a highly successful in-clinic puppy-parenting program to educate dog-owning clients about puppy behaviour and training. This program will soon be made available to veterinary clinics across North America. Jennifer is currently the Director of the City of Ottawa Spay Neuter Clinic in Ottawa, Ontario and is owned by her pit bull terrier, Charlotte, her hound, Mr. F. Bender, and her 27 year old turtle, Simon.