Dr. Nicholas H. Dodman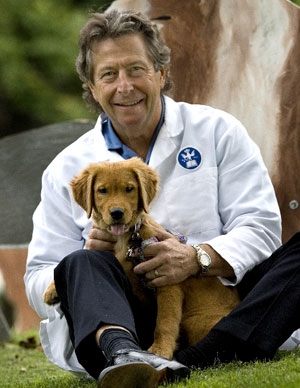 Nicholas H. Dodman
Professor, Section Head and Program Director,
Animal Behavior Department of Clinical Sciences
Tufts' Cummings School of Veterinary Medicine
North Grafton, Massachusetts
Dr. Nicholas H. Dodman is one of the world's most noted and celebrated veterinary behaviorists. He grew-up in England and trained to be a vet in Scotland. At the age of 26, he became the youngest veterinary faculty member in Britain. It was at that time that Dr. Dodman began specializing in surgery and anesthesiology.
In 1981 Dr. Dodman immigrated to the United States where he became a faculty member of Tufts University School of Veterinary Medicine. Shortly after his arrival, Dr. Dodman became interested in behavioral pharmacology and the field of animal behavior. After spending several years in this area of research, he founded the Animal Behavior Clinic - one of the first of its kind - at Tufts in 1986. He received an additional board certification in animal behavior from the American College of Veterinary Behaviorists. Dr. Dodman began to see clinical cases in 1987 and since 1990; he has devoted all of his time to his specialty practice of animal behavior.
Since the mid 1990s, Dr. Dodman has written four acclaimed bestselling books that have received a tremendous amount of national press. His first book, The Dog Who Loved Too Much (Bantam Books, 1995), was an unqualified success selling more than 100,000 copies as did his second book, The Cat Who Cried for Help (Bantam Books, 1997). His third book, Dogs Behaving Badly (Bantam Books, 1999) was again a bestseller while his latest, If Only They Could Speak (W.W. Norton & Co., 2002) has just been released as a trade paperback.
Dr. Dodman is internationally recognized and sought after as a leader in his field. In addition to his four trade books, he has authored two textbooks and more than 100 articles and contributions to scientific books and journals. He also holds 10 US Patents for various inventions related to the control of animal behavior. Dr. Dodman appears regularly on radio and television including: 20/20, Oprah, The Today Show, Good Morning America, The early Show, Dateline, World News with Peter Jennings, Discovery Channel, NOVA, Animal Planet, Fox TV, the BBC and CBC, CNN's Headline News, Inside Edition, MSNBC, NOVA, NPR's "Fresh Air" and A&E. He is an ad hoc guest on WBUR's "Here & Now." In addition, Dr. Dodman is a columnist for the American Kennel Club's quarterly publication, AKC Family Dog. This column was nominated as column of the year (2005). Dr Dodman also writes a column for Life Magazine that is read by an estimated twelve million people weekly and recently has agreed to write a column for Martha Stewart's Body and Soul magazine.
Dr Dodman is editor of a popular press puppy book, Puppy's First Steps (Houghton Mifflin) which was released in April 2007. He has also recently had a proposal accepted by Houghton Mifflin for a new book about responsible dog ownership. Dr Dodman is a consultant and official spokesman for a new national product, Zero Odor.
Dr Dodman has made a pilot television film of his own – sponsored by The Humane Society of the United States – that is under currently under review by various TV outlets. Good Morning America producer Patty Nager has dubbed Dr Dodman their ad hoc pet behavioral expert.
Dr. Dodman attended Glasgow University Veterinary School in Scotland where he received a BVMS (DVM equivalent). He was a surgical intern at the Glasgow Veterinary School before joining the faculty. He received a Diploma in Veterinary Anesthesia from the Royal College of Veterinary Surgeons, and is board certified by the American College of Veterinary Anesthesiologists and the American College of Veterinary Behaviorists.
He is a member of the American Veterinary Medical Association, the Royal College of Veterinary Surgeons, and the American College of Veterinary Behaviorists.
Dr. Dodman lives near Tufts University with his wife, Dr. Linda Breitman, a veterinarian who specializes in small animals, and their children.
His website is ThePetDocs.Com