Gillian Ridgeway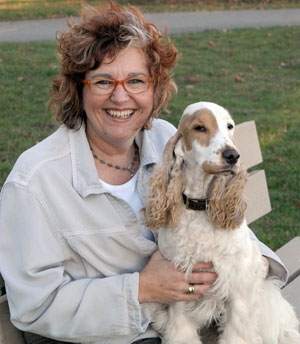 Gillian began her dog training career in 1972 as a dog training apprentice and has been involved in the animal world ever since. She has come a long way. Now overseeing a staff of 22 trainers, she is the Director of Who's Walking Who Dog Training Centre with 3 locations in Toronto and Ajax, Canada. Overseeing over 200 dogs per week, gives great insight not only into the dogs we live with, but their people as well.
Attending Centralia College for Animal Health Technology, she graduated with honours in 1984 and was the recipient of the Cormach Award for Most Proficient Student. Gillian has continued her education by obtaining Certificates in Small Animal Nutrition, Small Animal Dermatology and Behavioural Problems.
She has served on the Board of Directors for the Ontario Association of Animal Health Technicians and was a popular key speaker at the 2006 Veterinary Technicians Conference.
A Founding member in good standing of both the Canadian Association of Professional Pet Dog Trainers and International Positive Dog Trainers Association, Gillian believes that education combined with experience is the key to helping clients teach, and manage, their dogs. Gillian is a much sought after speaker, and her engagements include The Toronto Humane Society, The Canadian Association of Professional Pet Dog Trainers Association and The International Positive Dog Trainers Association (IPDTA) amongst many others, where she educated and entertains her audience with her "tell it like it is" style.
Serving as Public Relations Coordinator for the CAPPDT, she helped promote and encourage humane dog training. In 2004, Gillian picked up The Humane Education award from IPDTA, an association known for its humane efforts in dog training. Gillian is also a regular guest lecturer at the University of Toronto since 2003, using dogs to shed light on learning theory to the psychology students.
Gillian has been a feature columnist and consultant for Dogs, Dogs, Dogs newspaper since 1992 and also pens a monthly column for Dogs In Canada magazine. She has been nominated 2 times for a DWAA writer's award for Best Column in Dogs In Canada Monthly, plus once for her first published book, Citizen Canine. In 2004, she received The Writer of the Year from the IPDTA. The popular daily Toronto newspaper, Metro, carried her weekly Pet Care Column for 4 years and topics from dog behavior, to adding a second cat, to how to care for Guinea Pigs were all covered!
Ridgeway has been featured in many publications including: The Globe & Mail, The Toronto Star, Toronto Life Magazine and Readers Digest. She has also written for Animal Wellness and Dog Sport magazines. Gillian has shared her canine expertise on Breakfast Television, The Life Network, Global TV, MOJO Radio, Q-107 and Canadian Living. Her TV shows have been popular over the years and include being the resident trainer on the TV show "Dogs TV" plus a stint as the weekly canine expert on Canoe Live, Sun TV. Her frequent visits to City TV's Animal House Calls are popular with the dog loving public.
In her spare time, along with dabbling in Agility, Flyball, Competitive Obedience, Rally-O and Freestyle, Gillian is a member of The SuperDogs International Performance Team with her 4 dogs. Cruiser a Nova Scotia Duck Tolling Retriever, Levi a "one of a kind" all Canadian terrier cross, Yardly an English Cocker Spaniel and the latest addition, Noah, a Pyrenean Shepherd (plus a very patient husband) all share Gillian's life. Her ultimate goal is to encourage and inspire the public to live in harmony with their canine companions.