Three Weeks of Chaos - Puppy Socialization
Jeff Silverman
| Tue, 12/15/2009 - 08:42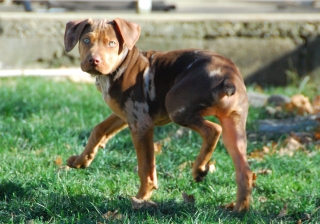 There's been a great deal of socialization to report on in the last 3 weeks for Chaos. Going home to visit my large extended family over Thanksgiving weekend set the gold standard. Chaos made 3 trips to a nursing home, where he met people in wheelchairs, people using walkers, and people who move a little oddly for a variety of other reasons. He made especially good friends with a dog lover who had suffered a stroke. I'd put Chaos in her arms and he'd lay his head on her shoulder bathing her face in puppy kisses. We made a point of visiting her every day. I've never done therapy dog work before, but I might be hooked. The joy that lit up people's faces when they met a puppy was really wonderful to see. I don't know how many therapy catahoulas there are, but who knows what the future holds?
In addition to large parties, Thanksgiving brought Chaos' first introduction to human toddlers. Toddlers really should be considered a whole separate species for purposes of socialization. On Thanksgiving, he charmed two sisters aged 18 months and 3 years who were both generally afraid of dogs. The next day he spent hours romping (under constant very close supervision) with a rough and rowdy 3-year-old and her 7-year-old sister until puppy and toddler both collapsed in a heap and took a nice long nap all wrapped around each other on the couch. He's met a few other toddlers since then in class, at clients' homes, and on public outings; but it's probably the one area in which I'm falling short of what we should be doing.
We made the most of Thanksgiving, but socialization continues. Chaos has met 24 new dogs in the last 3 weeks: 2 at the nursing home, 4 at friends' homes, 4 in another trainer's puppy class, 2 new students in my puppy class, 3 private training clients, 3 board and train clients at my house, and 7 on his first trip to Petsmart.
I can't begin to count the number of people he has met in the last 3 weeks, but it has to be well over 200. In addition to his first Petsmart outing last night, he's been to several parties and made a couple of trips to stand outside a grocery store during the after-work rush. The grocery store is a great place for socialization. The whole world comes to the grocery store. You get all ages, sizes, builds, races, and facial hair styles. In the cold weather, you get all kinds of clothing and – very importantly – hats. There are also automatic doors, noisy shopping carts, people on scooters, and a really wonderful clanging when someone takes out a propane tank out of the rack. Even in cold weather, 15 minutes outside a grocery store with an adorable puppy will prompt at least 4 or 5 people to stop and say hello while many more pass by. Just remember that – even with a young puppy – a public outing requires better manners than puppy classes. Stay on top of things to make sure that your pup doesn't jump on or nip anyone who might be offended.
In addition to our outings, I have all of our dog-loving guests doing exercises to restrain Chaos to handle his feet, ears, and mouth. If it's around dinner time, some also do food bowl exercises with him. My hope is that he experience restraint and handling as a natural part of social interaction and it seems to be working.
Chaos and I have also enrolled in another trainer's puppy class in addition to attending 3 of ours each week. It's a bit smaller than I had hoped, so I may sign up for yet another. I asked the trainer about Petsmart puppy classes when I was there last night and was astonished to learn that they don't include any off-leash interaction between puppies at all. (hopefully someone can let me know in comments if it was just this trainer, but I understood it to be corporate policy). That reminded me of the importance of choosing a proper puppy class. I encourage anyone looking for a puppy class to check out Dr. Dunbar's article on puppy classes and choose wisely.