Fitness Routines for Dogs
Genie Tuttle CP...
| Tue, 12/18/2012 - 14:43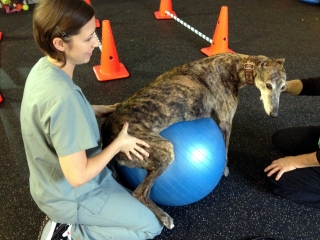 It happened one day when I wasn't looking. Time snuck by and suddenly my "new dogs" turned into my "aging dogs" seemingly in the blink of an eye. We adopted them from a greyhound rescue on the same day 9 years ago, when both were 2 years old. The thrill of getting to know them and show them the world was captivating and certainly something all dog-lovers understand. So much to learn and do, so little time. But we never looked at it that way.
Unfortunately, injuries are commonplace among retired racers, with broken legs, back injuries and subsequent arthritis leading the way. Several years ago I noticed that my female retired racing greyhound, Corsa, sort of teetered around and looked unusually light in the rear. She bore most of her weight up front and her back legs hopped about and didn't always seem to be full-fledged members of the "balance committee." She fell over from time to time, too, which scared the whole family. Fortunately we have a wonderful veterinarian, Dr. Dody Tyneway, DVM, CVA, CCRT within driving distance, who is well educated in both Western and Chinese medicine and knows Corsa and her issues very well. She receives comprehensive chiropractic, acupuncture and associated treatments when necessary to help manage her pain and keep her mobile in addition to a few helpful medicines.
We didn't stop there. Recently our same trusted vet opened the K9 Gym and Rehabilitation Center where dogs can benefit from hydrotherapy, therapeutic exercise, massage and more. This is where I learned about fitness routines for dogs. If strength training helps people with balance, flexibility and better range of motion, why wouldn't it help animals too? In an effort to stave off the aging process in Corsa's case, we now supplement her holistic treatments with targeted exercise routines to improve her core strength and stability. I wish we had started her on an official fitness routine years ago, before her ailments became so pronounced. If only we knew then what we know now.
Canine fitness is a relatively new concept in the dog world, and is certainly not just for senior citizen dogs. Canine conditioning became popular a few years ago among canine athletes and sport dogs of all kinds, helping them to perform better, faster and stronger. While Corsa is beyond her racing years now, we are thrilled to have exercises, massage techniques and stretching moves to do with her to help her remain in the best shape possible at this stage of her life.
She walks on-leash slowly over Cavaletti poles to increase her core strength and focus on lifting her back paws up off the ground. Working on the fit ball (pictured here) helps with balance, stretching and stability. Corsa's fitness routine also involves weight shifting exercises and stretches, using treats to motivate her to move and balance in these beneficial ways. Becoming adept at walking backward is important for her rehabilitation plan too, so we do that down the hall in our home.
Canine fitness is important for dogs of all shapes and sizes and it doesn't require a huge time commitment. In just 10-15 minutes a few times a week you can greatly improve strength and mobility for your athlete or your couch potato.
Don't wait to start a fitness routine at the "rehabilitation" stage, get in the game early (prevention is key) and have a healthy fit dog for years to come, knowing that, "Time flies when you're having fun!"