Steve Dale's Pet World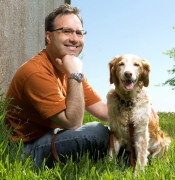 Pet Expert Steve Dale is the author of the twice weekly syndicated newspaper column "My Pet World" (Tribune Media Services). He's also the host of nationally syndicated radio programs Steve Dale's Pet World, The Pet Minute with Steve Dale; and Steve Dale's Pet World on WLS Radio, Chicago.He's also a contributing editor at USA Weekend.
Touted as reaching more pet owners than any other pet journalists, as a pet expert and holding passionate views, Steve's a frequent guest on local and national radio shows. His TV appearances include The Oprah Winfrey Show; National Geographic Explorer; Pets Part of the Family, PBS; several Animal Planet Shows; Fox News Channel and CNN Headline News. He was a regular on WGN-TV, Chicago for two years, and hosted multi award winning Pet Central on WGN Radio for 12 years.  He's been quoted in publications ranging from the Los Angeles Times to USA Today to Redbook.
His books include "American Zoos" and "DogGone Chicago," and he's written forewards and has been a contributing author to others. He's special correspondent for Cat Fancy and editor-in-chief of PawPrints (a newsletter for veterinarians). He's written for most pet publications including Dog World, Dog Fancy and Cats. He was once a regular contributor to People magazine, and a columnist for the Chicago Tribune.
Steve's certified as a Behavior Consultant by the International Association of Animal Behavior Consultants. He's a popular guest speaker for events, and has presented at many major veterinary and humane conferences around the world, including the Western Veterinary Conference, Convention of the American Veterinary Medical Association, North American Veterinary Conference World Small Animal Veterinary Association Congress; West Indies Veterinary Conference and Conference of the Association of Pet Dog Trainers.
Steve serves on several Boards of Directors including the American Humane Association, Winn Feline Foundation, CATalyst Council and Tree House Humane Society. He's co- chair of the Task Force on Companion Animals and Public Safety under the auspices City of Chicago/Alderman Gene Schulter.
Steve organized a Mardi Growl fundraiser for New Orleans shelter animals (following Hurricane Katrina), which prompted similar fundraisers around the country. When his cat Ricky died of a common but incurable heart problem, he created a fund through the Winn Feline Foundation to support research. As a result of the thousands he's helped to raise, genetic mutations have been discovered, which breeders now test for. Steve teamed with the AVMA to raise thousands of dollars in a campaign, which the White House became aware, called "Pets for Afghan Kids." Steve's activism has helped make it possible for Chicago restaurants to allow dogs to dine outdoors. Steve also helps communities to fight breed specific bans, and advises on animal assisted therapy – he's on the Board of Directors of Angel on a Leash. Steve's helped to popularize kitten socialization classes, which were developed in Australia
He's the recipient of many awards including the prestigious AVMA Humane Award (highest honor to a non-veterinarian), Syndicated General Feature Newspaper Writer of the Year, American Kennel Club Responsible Dog Ownership Award, Winn Feline Foundation Media Award, American Humane Association Media Award, Cat Writers' Association Shojai Mentor Award, and Humane Society of the United States Pets for Life Award. His dog and cat writing colleagues have awarded Steve many times for Best Newspaper Column, Best Newspaper Feature, Best Radio Broadcast and Best Website.